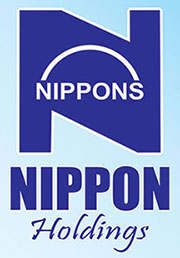 Nippon PVC Holding (Pvt) Ltd
Leading company which manufacture and sell PVC doors and Ceilings, with highest standard in quality.
Products ranges : Ceiling sheet 2x2 & 4x2 , PVC – Design / Glass / Normal / with and without Frame / I Panel , H Panel , M Panel etc..
No. 8,9 Mawathagama EPZ, Mawathagama, Kurunegala.
Nippon Bags and Furniture Manufacturer (Pvt) Ltd.
Leading supplier for bags and backpacks such as School Bags, Hand Bags, Travelling Bags, Side Bags, Trolley& Luggage Bags, Ladies Bags any other customised Bags as per requirements, which are being manufactured out of high qualitymaterials from Japan.
Bulugahawaththa Road, Malkaduwawa, Kurunegala.
Lanka Polysacks (Pvt) Ltd.
One of the major manufacturing companies in Sri Lanka in Polypropylene/Multifilament packaging industry, has been in sound existence since its inauguration in 1997 to catering to all segments of the society in the region identifying customer's day to day requirements. The product range consists of Woven&Non Woven sacks, Leno Sacks, Mats, Multi-filament Yarn Thread, Strapping Band.
Kandy Road, Dambuluoya, Dambulla.
Nippon Plastic Industries.
Nippon Plastic Industries is one of the pioneers in manufacturing moulded plastic products with finest raw materials to the highest standards involving hi-tech technology available. Products ranges from industrial, Households items to Furnitures.
Bathalagoda, Ibbagamuwa, Kurunegala.
Nippon Lanka Rope Industries.
Leading Manufacturers & distributors of all types of ropes
Kumbalanga Road, Bakmeegolla, Ibbagamuwa, Kurunegala.
Nippon Helmets and Toys (Pvt) Ltd.
A company in manufacturing of high standard Helmets for bikes and moulded Toys.
Nandanawaththa, Pussella Road, Singhapura, We-Uda.
Nippon Bag City
New Ameer Stores